Sunday, July 16, 2007 was a beautiful day in San Francisco.
We arrived in the city around 2:30 pm after some horrific traffic on the toll road and had lunch at Francis Ford Coppola's
Cafe Zoetrope
.
After a bottle of Director's Cut pinot noir and some incredibly slow service, we were taken into the kitchen and through a very small, private bar (one booth, one three foot counter) for a tour of Mr. Coppola's private screening room. A tan leather couch and a matching set of unusually small chairs were pushed up against the walls, which were covered in seventies-green, fishscale-patterned wallpaper. The wall paper was in terrible contrast to the crimson carpet, which bore a pattern of light blue geometric shapes that looked kind of like a Transformer in mid-assembly -- not a machine, not yet a man. Of course, once we learned that the carpet was from the set of
The Godfather
, the whole thing became easier on the eyes. And let me tell you, that couch was comfortable.
After lunch, we got some gelato with the family and then parted ways to commence:
The Pre-Pumpkins Pub Crawl!

Our first stop was the
San Francisco Brewing Company
, near Cafe Zoetrope. We had missed the 3:00 pm classical piano, but got there just in time to take advantage of the happy hour ($2 pints). I had the Amber (too sweet) and the wheat (too bitter). Our waitress was a sweetheart -- she reminded me of my friend Becca with a darker wardrobe and a foreign accent. This possessed me to step outside and leave a drunken message on Becca's voicemail.
On the way out, we walked past Happy Donut. I've been craving a donut ever since the 7-11 Simpsons tie-in was unleashed on the public (
Mmm,
Donut indeed) so I stopped and got a chocolate iced. On the way back to the car, we spotted a sign for $2 well drinks at
Larry Flynt's Hustler Club
. I had just bit into my happy donut when Seth joked, "we should check it out." With a mouth full of sugar cake I replied, "Ihm dowhn ifh your dowhn."
We walked downstairs past a skinny bouncer with a mohawk and into a purple velour cloaked den of blue green neon. It smelled like baby wipes. A chunky girl was dancing on a small platform in the middle of the room to garage meth remix of Christina Aguilera's
"
Dirrty." She was wearing one of those one-piece bodysuits -- leopard print -- with the sides cut out. Who thinks those things are sexy? And they make bathing suits like that. Have fun with that tan line, sucka.
Seth went to the bar to get some jack and cokes and an older woman with a very short haircut meandered toward me and then away from me as I sat down at an adjacent table. The girl in the leopard print left the stage and another one in an equally hideous white bodysuit lurched onto the platform to the tune of Nelly Furtado's "Maneater." Then, "Maneater" sequed to Amy Winehouse's "Rehab" and the girl's schtick went from lackluster to apeshit. She was rolling all over the stage like a hyper toddler while three guys leaned over the barrier, whooping and cheering and clapping their hands to their faces like they were extras in a movie. Emboldened, this girl shimmied all the way up to the top of the stripper pole and, just as I was wondering how they greased those things to avoid the sound of skin sliding down metal,
SKEEEEEEEEEEEEEEEELLLTCH
My own thighs still hurt just thinking about it.
We left, and walked to a Tiki-Ti esque bar called the
Bamboo Hut
, but like a liquor store in Indiana, it was closed on Sundays. So instead we hopped into
Fuse
, a bar completely covered in blue and bartended by the lead singer of Bare Naked Ladies. The jack and coke he gave me was weaker than the one at Hustler, but enough to reach a satisfactory level of drunk in time for the show.
The area around The Fillmore looked surprisingly like a neighborhood in Chicago. And at sixty-five degrees with a sturdy wind, it also felt like fall. For a second, I started scheming a way to move there. But then I remembered that I'm scared of earthquakes and hills and being surrounded by water.
(Yeah, I watched
Earthquakes!
on the History Channel. That city is still fucked.)
After a decent will call line ("ZERO shirts get in front!"), we got into The Fillmore in the middle of Fair to Midland, which was like My Chemical Romance meets Nickelback (i.e., not good). So we walked around the venue looking for the legendary apples but couldn't find them. I think they were supposed to be on the third floor where the dining room is; my guess is that they were replaced by the YouTube booth. But we did get to see all the cool posters -- oh to have been there back in the day, and see Janis Joplin every Friday night (as Seth's mom had, and reminded us a handful of times that morning.)
Fair to Shitland ended and we took a spot for SP. It got pretty hot and stuffy -- I certainly couldn't trip in there; I'd hyperventilate and have a panic attack.
Okay, yes: the new album sucks, and Billy is a dickhole for releasing four different copies of the album with an exclusive song for the Trifecta of Evil (or awesome, depends on how you look at it). But when he took the stage, nostalgia cut through pretense and pulled the crocodile tears right out of me.
Here's the set list:
Main Set :
United States
Doomsday Clock
Bleeding the Orchid
Blue Skies Bring Tears
Starla
Today
Bullet With Butterfly Wings
Hummer
Lucky 13
Heavy Metal Machine
Tonight Tonight
For God and Country
Rotten Apples
If All Goes Wrong
The Leaving Lament
To Sheila
Glass and the Ghost Children
Tarantula
Starz
Zero
Disarm
Untitled
That's the Way My Love Is
Neverlost
Drown
Silverfuck
Encore:
Gossamer
(No, I didn't remember all that. I got it from blamo.org)
The first three songs were glorious -- granted, I was still in "Oh My God, it's Billy Corgan" mode. The first real treat was "Today," though Corgan's rendition was rather perfunctory -- he seemed to speed through it, without emotion. The best moment of the evening was the soft/loud transition from the first verse to chorus in "Silverfuck," which made me look even more forward to the Mother of All Soft/Loud transitions, the jump from the bridge to the final chorus (after the whole "bang bang you're dead" bit) -- but he changed the end of the song and left me wanting. Sadness.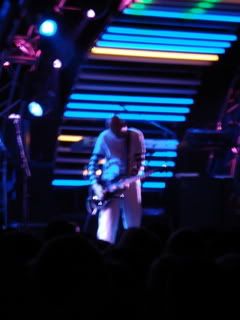 As expected, the set was three hours long, and I patiently waited through the final epic 25 minute jam Gossamer, hopping from foot to foot on failing feet, hoping for a second encore and some Muzzle or 1979 or Fuck You (an Ode to no One). But after they left the stage the lights came up and we hobbled back to the car.
Overall, it was great -- a little disappointing, but great -- I finally got to see Billy and I got to hear "Today." And I wasn't eaten by
coyotes.