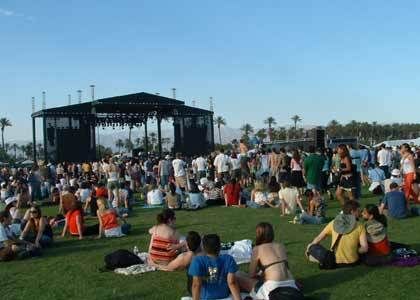 My intense love for Bjork possessed me to fork $100 over to Ticketmaster and drive all the way to Indio to attend the first day of the Coachella Valley Music and Arts festival by myself. I looked forward to the day as an opportunity to test the "Show-lo" hypothesis: that going to shows by yourself can be better than going with friends.
Of course, going to a show with friends can be great if you're all mutually into the band and rocking out. But it can also be disappointing if the level of interest in the band varies from person to person, because you can feel self-conscious about rocking out too much, or too little; or you can torture yourself by sitting through some set you don't want to listen to, or alienate someone by leaving said set, or piss someone off because you have to leave to pee, or move forward to get close, or go to the beer tent for another beer.*
(*Note: These sentiments may only apply to the chronically neurotic.)
Regardless, after feeling guilty for dragging people to the likes of Tricky and DJ Shadow, and annoying Magnolia Electric Company and Sufjan Stevens fans with bored pouting, I was eager to test my hypothesis. So, I drove out to Indio with two 32 oz. Tecates, a bag of caramel rice cakes and a mini-notebook, to see if going it alone might improve my concertgoing experience.
I parked at 2 pm, and as the lot filled around me and young eager hipsters popped out of their cars to lounge about the screaming hot metal of their trunks, drinking beer and applying sunscreen to their friends, I suddenly became very self-conscious about my plan to consume the two 32 oz Tecates before leaving my car. So, I decided to pick up my phone and call my BFF John so it would seem to casual observers that I was NOT drinking by myself; rather, I was enjoying a brewski whilst having a very important phone conversation.
I managed to break off the tab to my first Tecate without puncturing the can, rendering it useless, but one proved to be enough: after guzzling it in under five minutes, I began to lose track of what John and I were talking about and took this as a sign that it was time to leave my car. I walked to the field and stood in a long line for liquor wristbands, sandwiched between two couples, who precipitated the first of the day's revelations:
Show-lo revelation 1: Girls are more apt to complain in the company of their boyfriends.

Whining, bitching, moaning; about the line, about each other, about what other people were wearing.
But my experience in the subsequent and even longer security line between two
groups
of girls required a modification of my earlier observation:
Show-lo revelation 1B: Girls are more apt to complain in the company of others.
You may be thinking: well,
Duh
. Of course people complain more often in the company of others than when they're alone, because when you're alone, you have no one to complain to. But my point here is this: the situations produce very different dispositions. If anyone else had been with me, I would have felt very anxious and would have complained; but alone, I felt very relaxed, and was content standing patiently while the sun beat down on my slightly numb face. Why would I feel more anxious if I was with someone else? Could it be that I'd be so uncomfortable with the thought of another person being uncomfortable in my presence that I would complain in an attempt to preempt their potential expression of discomfort, and blunt it or dismantle it by declaring that "I, too, am uncomfortable; even more uncomfortable than you," or "I, too, am uncomfortable; we can be uncomfortable together and seek solace in this shared discomfort."
Well, regardless. Once I was finally in I was overcome by the beauty of all the people on the field, the hot desert air, and the robust palm trees lining the perimeter of the field. My first order of business was to get some much-beloved shitty festival food. I browsed the selections and settled on a Veggie Gyro, which precipitated the second revelation of the day:
Show-lo revelation 2: Life is like a veggie gyro on a summer day: stupid and sloppy and oh-so-satisfying.
While writing this one down, someone asked me if I was a reporter. Which led to:
Show-lo revelation 3: If someone asks you if you're a reporter, say yes.
I caught the end of Comedians of Comedy, which was excellent, then made my way over to the beer tent and began consuming alcohol as quickly as I could, in an attempt to outpace my perspiration and stay drunk; but it was too hot, I was sweating it all out, and I gave up $28 later with nothing to show for it except a mild headache.
After watching Amy Winehouse with two 30-something bald men from Venice beach, I went for more food as the sun was setting. At this point, I felt kind of bored, and as I sat by myself on a grassy knoll eating a polish sausage doused in mustard and onions, boredom begot depression, and I felt quite foul about the whole thing. I almost gave up the "lone piece" (to quote a phrase from C-Dog) and called my roommate, who was backstage with some friends, but then I realized that Felix da Housecat was about to start, and that I could always count on dancing to lift my spirits.
When I entered the Sahara tent, I was put-off initially by a 40 something greaser and his two 40 something cougars, all of whom were evidently rolling, but I found my own little spot in the tent and got my rave on. It was great. I had forgotten how fucking great it felt to dance. I dropped some heavy footwork and jumped around; while bouncing, the sheer force of my $20 Urban Outfitters string-o-beads crashing against my neck snapped the string and sent beads flying everywhere. This was actually my second jewelry casualty of the day: Earlier, my Forever 21 bracelet dissolved in my hand; further inspection revealed that its two halves had been held together by Scotch tape. I guess that's what you get for $3. Or is it?
Show-lo Conundrum #1: Do I need to buy more expensive jewelry so it won't break, or should I keep buying cheap jewelry because I break it all the time?
Hmm.
With spirits lifted, I walked over to the outdoor stage to watch Jarvis, who was absolutely fantastic. Afterword, I mistakenly forewent El-P in the Mohave Tent to get a spot for Bjork, which required watching Interpol, which I can only describe as "painfully boring."
And at this point, I stopped having revelations. Truth is, I was bored sick of myself.
I was close to the stage for Bjork, but I still managed to end up behind a woman taller than me -- a thick Native American woman about 6 foot 5 -- so even with all my careful planning, I had a bit of trouble seeing the show. But it was amazing: the energy she brought to the stage was explosive, and although it was hampered a bit by a string of ballads in the middle of the set, the final four songs -- Wanderlust, Innocence, Pluto and Declare Independence -- were exultant.
By the end of the set, I was exhausted and eager to get back to LA. But I didn't make it back that night. My roommie convinced me to stay in the condo her friend was renting, and I'm glad I did, because I was terribly tired and I got to sleep in and go to the pool and hang out before I drove home the next day (Thanks S & K, if you're reading this). Ms. Roomie tried to talk me into staying through the weekend for more sun and debauchery -- several of her condo-mates had press passes -- but I declined. At that point, I wanted nothing more to get home and have dinner with the BF. Does that mean I'm lame?
"No, it means you're responsible. It means you've grown up." That's what John said to me on the way home. And with his help, I tried to convince myself that was a good thing.
So, Show-lo Number 1 was filled with many high highs and several low lows, compared to the mid-to high Muuuhhr of a companion-filled excursion. I wonder if this is consistent with the rest of life's activities?
Conclusion: More experiments are necessary to reach a conclusion.