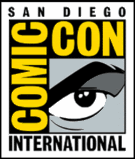 Favorites from this year's Con:
Wall-E panel
Sound designer Ben Burtt (Star Wars) demonstrated the layers of sound that will express the personalities of the characters in Pixar's upcoming
Wall-E
. Burt explained that he looks for sounds that have an emotional texture -- which can be anything from squeaky doors in hospitals or WWII engines he hears on History Channel programs and then purchases on E-bay (the latter is the noise for Wall-E's motor). Interesting stuff.
Director Andrew Stanton revealed the story of
Wall-E
: the last robot left on a trash-filled earth breaks out of his trash-compacting daily routine when he becomes curious about the trinkets humans have left on their discarded planet and falls in love with a probe droid sent down from lazy humans' luxury spaceships (the humans have become couch potatoes - fat blobs who lie around on hover-lounges.) It's "The Little Mermaid" meets "Idiocracy." And it brought me to tears twice.
Iron Man panel
Well, Robert Downey Jr. was there, so, yeah -- he has a way of lighting up the room. Equally enjoyable was Jon Favreau, whose enthusiasm for the movie was infectious. Terrence Howard pointed out that "every movie is like a comic book - you get to go into another world and experience something new." Gwyneth Paltrow sat quietly and smiled politely. And then Stan Lee showed up and delighted us all. And the movie? F-ing awesome. Iron Man kicks ass and Robert Downey Jr. seems perfect as Tony Stark (He was wildly approved by fans of the comic, as well as those of us who hadn't read the comic, myself included).
Are you the King of Kong? Donkey Kong contest.
A tie-in to the upcoming documentary,
The King of Kong: A Fistful of Quarters,
the Donkey Kong contest invited Comic-Con attendees to give the classic arcade game their best shot Thursday through Saturday. The play-offs were on Sunday. Fun to watch.
Life-sized Old-school Batmobile
Sweeeeeeeet.
LEGO Hogwarts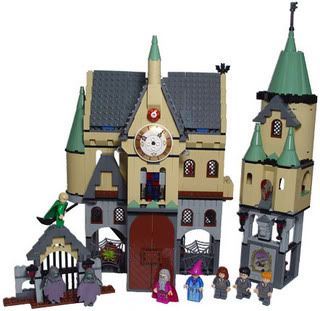 It would be mine . . . if it wasn't $99.
Naked Fat Rave banner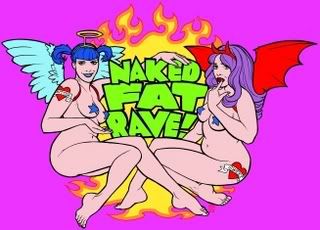 Representing a
collective
of artists. No "Naked Fat Rave" comic book (yet), but one can dream . . .
These treasures were among the few I could process during my whopping two hours in the Exhibit Hall. It was a little too crowded to stop and absorb anything. Just imagine navigating through thousands of people who are attempting to walk forward while looking left and right and up and down . . . while looking left and right and up and down yourself. A little tricky.
But I did complete my Comic-Con experience with this obligatory cell-phone exchange:
"Where are you?"
"Do you see the guy with the light saber?"
"No."
Exactly.