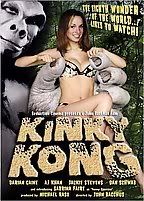 (NSFW)
Seduction Cinema's
Kinky Kong
, the latest from director John Bacchus, is the daring tale of a giant, horny ape's journey to overcome his sexual frustration.
I only caught the last ten minutes of this extraordinary film, but I was blown away by its sheer lunacy. Filmed in beautiful NYC and Butler, New Jersey, the film pushes the boundaries of visual F/X with an ill-fitting gorilla suit from Rite Aid's discount Halloween bin and a bevy of insulting chroma key. Like any red-blooded simian, Kong loves lesbians, and when he spots two tattooed dykes bumping vulvas (literally) in a high-rise penthouse, he humps the building until he ejaculates. The Kong Cum rains upon a transvestite below with the consistency of watered-down Elmer's glue.
The unsatiable Kong then travels to Ellis Island to fuck the Statue of Liberty. Could this film get any better? Yes -- apparently, earlier in the movie, Kinky Kong ass-rapes a T-Rex.
For more:
http://www.imdb.com/title/tt0494244/