After Saturday's chance encounter with culinary arts blogger
Carina Ziegler
, I added Issaquah's
Tiger Mountain
to my Sunday itinerary. I was committed to checking out Snoqualmie Falls for Emilio's sake, but since Issaquah was on the way (and, admittedly, I kind of wanted to check it out
anyhow
), I rallied around 9:30 a.m. and headed east on I-90 with hope of making it to both. I did, and I was not prepared for what awaited me.
The Tiger Mountain hike was
unreal
.
In a secret garden, enchanted magical forest sort of way. (THANK YOU, CARINA!)
Surely, if only I'd ingested the slightest amount of hallucinogens, secrets of the ancient forest would have spilled forth from the woods.
I think these characters, in particular, would have had a lot to share:
Unfortunately, I only had a granola bar, and my
id
did not burst forth from my messenger bag.
Drugs would have been redundant, though, at the top of the mountain, where the scene was effectively psychedelic. Submerged in cloud, the summit was silent save for eerie, other-worldly birdsong, the soft patter of rain, and the squelch of my shoes in the mud.
The trail at the summit.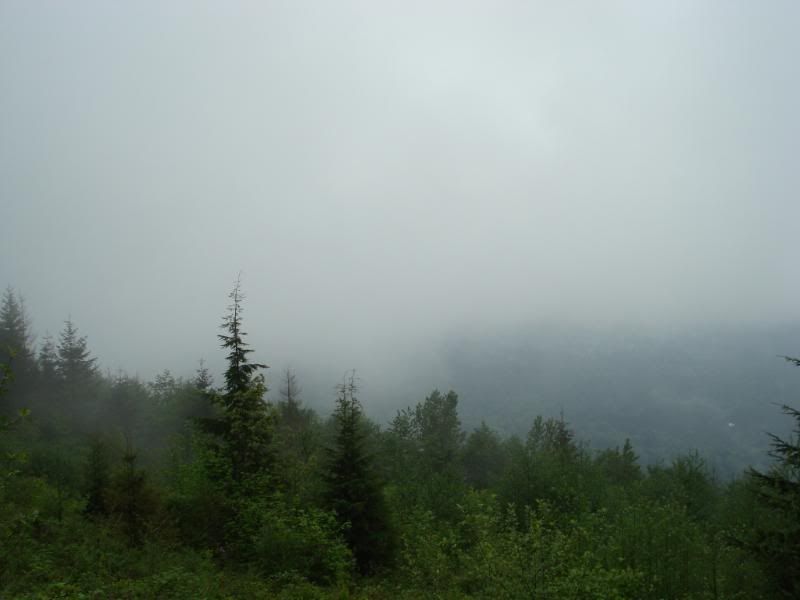 View from the top: Cloudy, with a chance of trees.
Oh -- the mud.
For some reason, I thought my Chucks would suffice: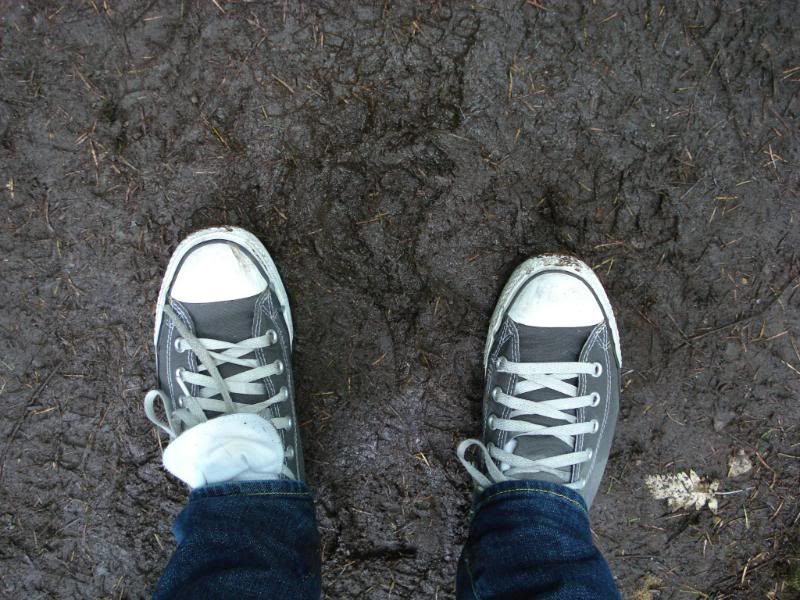 Duh.


And the only thing worse than climbing up a muddy mountain in Chucks? Climbing down a muddy mountain in Chucks.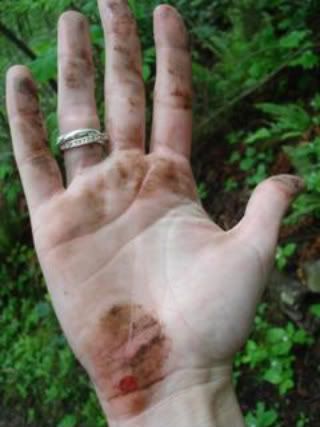 Gnarly!


I hastened my descent after the fall, begging a group of lovely ladies for some band-aids along the way ("We don't have any, sorry," they replied. "Which is pretty pathetic for three doctors and a nurse.")

But I did stop to befriend a snail:



Out of the woods, my first order of business was tending to my wounds, so I stopped at a Shell and bought some band-aids from Dave, who suggested I check out the Rollin' Log Tavern across the street. Note taken.

But first: food.

I walked my bandaged hands over to the Issaquah Brewhouse and ordered the Kobe Blue Balls sandwich, a blue-cheese stuffed Kobe meatball sandwich on a marina-smothered hoagie bun. With potato chips and a pickle spear. Ohhh, it was Epic.
I met a man at the bar named G, a cuddly tattooed fellow who had just initiated a divorce from his wife of 5 years. He confessed that I was the first person he'd told; better to start with me, a total stranger, than with family and friends. We bonded over the difficulties of ending long term relationships over some Rogue Dead Guy Ale (very tasty).
Time for
Snoqualmie Falls
, another 20 minutes east of Issaquah. The falls were truly awe-inspiring: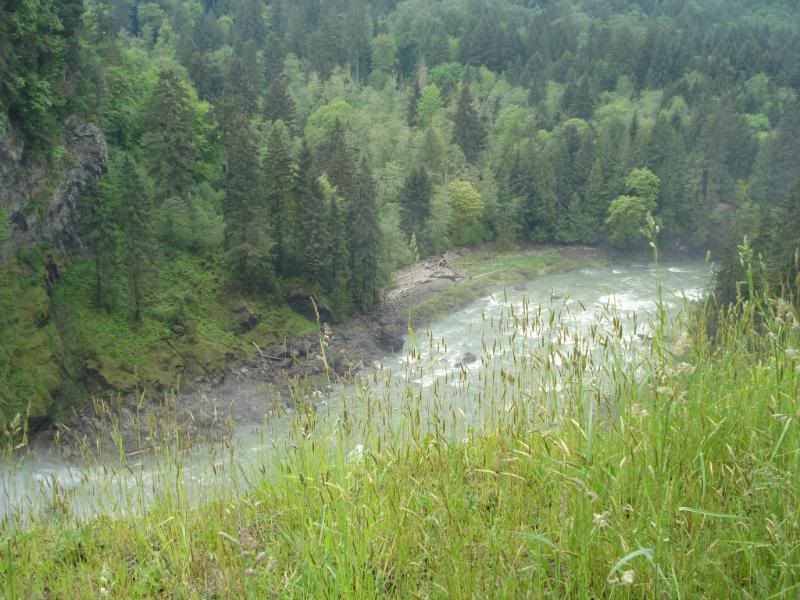 My recommenders had warned that the Falls would be crowded, but they neglected to mention that it's also the site of a power plant (!)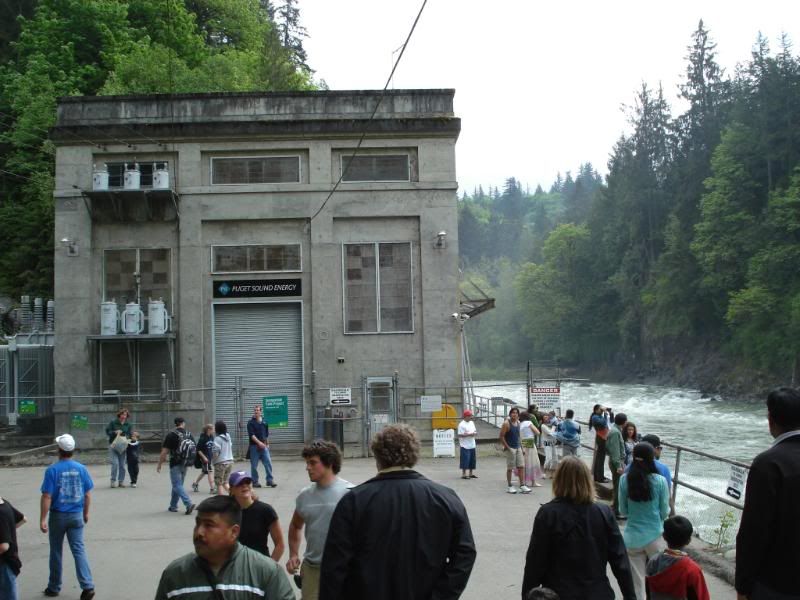 Glorious nature.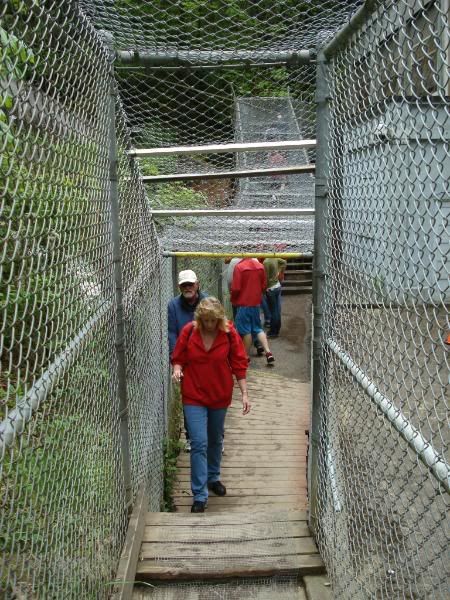 Tranquil countryside.



Machinery aside, I did manage to capture this tender moment: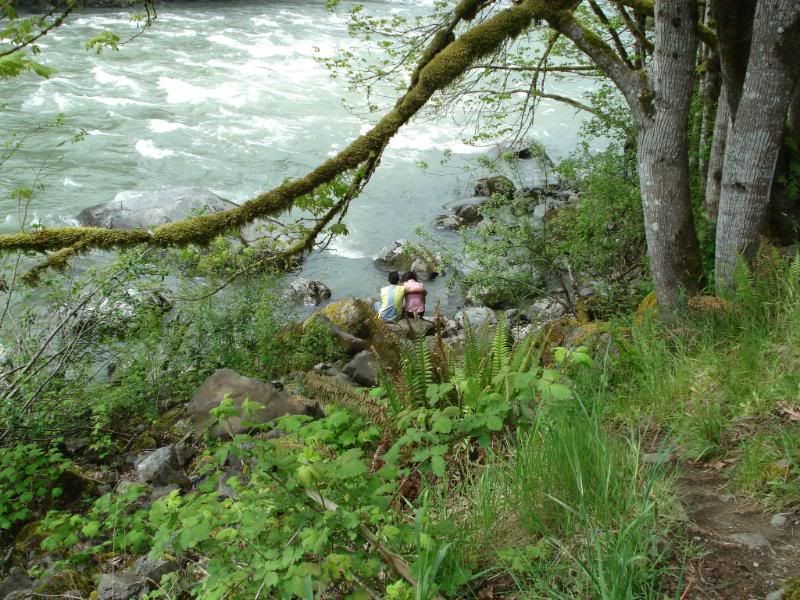 How. Adorable.

There were no discernable trails at Snoqualmie Falls, save for a super jam-packed .5 mile hike to the river. (Which made me all the more grateful for Carina's stellar recommendation.)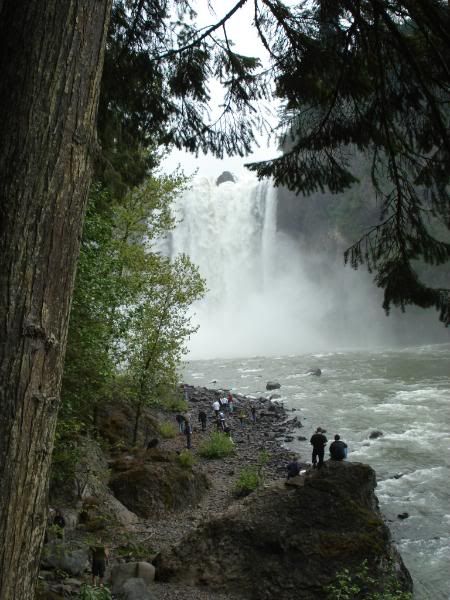 Frustrated, I asked the cashier at the gift shop if she knew of any good hikes nearby, and she gave me four slips of paper with cryptic directions to surrounding trailheads. I settled on Twin Falls, off I-90 exit 34.
Bingo.
Tiger Mountain had plenty of tranquil forest, but no fresh water. Snoqualmie Falls had plenty of fresh water, but no tranquil forest.
Twin Falls, though, was just right.

And I finally had that moment I was looking for.

Some pictures:

Water source.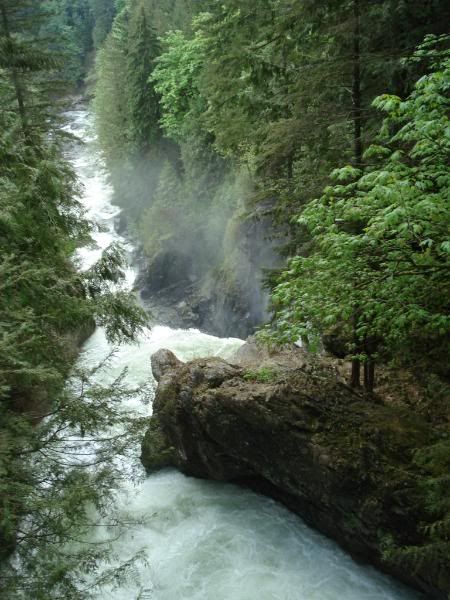 Bottom half of the falls.


Top half of the falls.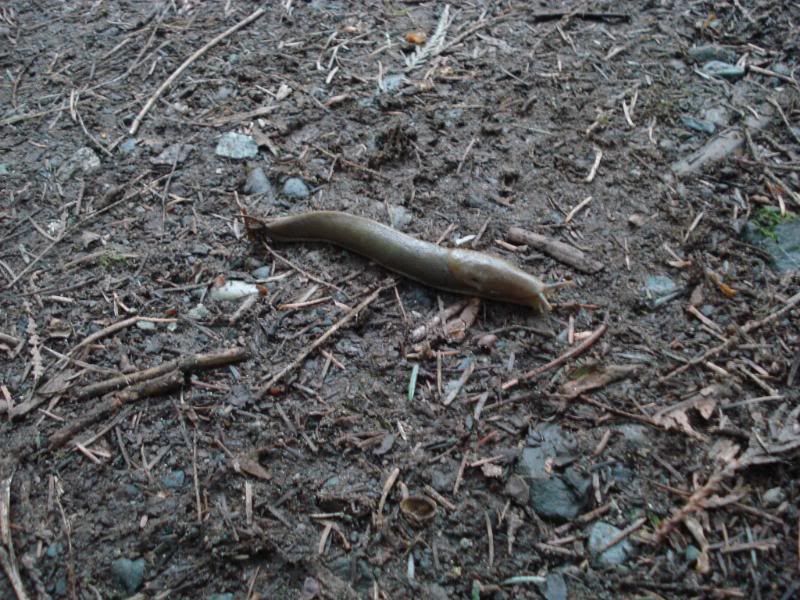 Another friendly slug.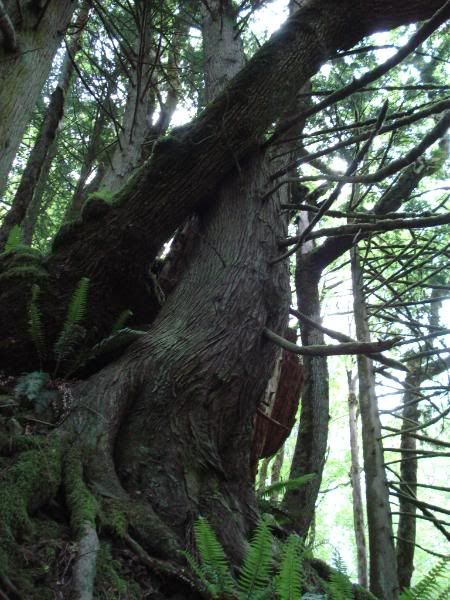 Prophesy.
The sun was setting by the time I left Twin Falls, and I was wet, muddy, stinky, and still bleeding from my morning tumble. So what to do? Why, head back to Issaquah for a beer at the Rollin' Log Tavern.

I enjoyed a Rogue American Amber and a basket of transcendently greasy fish and chips at the Rollin' Log, where I was tended to by a lovely mother-daughter team (Dixie and Heather, respectively).
When Shell station Dave had recommended the place earlier in the day, he said the Rollin' Log Tavern was " pretty much as good as it gets." I have to concur. The place is the holiest of dives: a nice arcade selection (bowling, Golden Tee, off-road racing), two pool tables, darts, a shuffle board, loud TVs, fried food, a hot nut bar, free popcorn, chewing gum and pork rinds and single-serving aspirin for sale behind the bar. Hospitable, close-knit, local clientele. I was tired, really tired, and I knew I should've gotten back on the road after the first beer. But I couldn't leave. In fact, I sort of wanted to die there.

Dixie recommended the Hefewiezen, and after Heather gave me a free sample, I relented, and stayed for one last beer and a conversation with Issaquah native Sharon and LA-bred Dave. I promised I'd look them up the next time I was in Issaquah (Soon, I hope. It's truly a gorgeous place).

Relunctantly, I walked back to the Sebring, passing another great looking bar along the way (H&H saloon, where several folks were singing along to one patron's acoustic rendition of a country-western song), and headed north for the final stop of the trip: Walgreen's, to replace a toothbrush I'd managed to knock into the Holiday Inn toilet (yup).
Outside the pharmacy, I was apologetically approached by a young man who had just gotten out of the emergency room for a kidney infection and "didn't want to be a bum," but just needed five more dollars to get his meds. So I bought the toothbrush, and gave him 5 of my $20 cash-back. He hugged me, and assured, "you've got great karma coming to you."

I hope so, and if it's true, I'd like to pass it along to Emilio, Debbie, the novelty store guys, Rachel and Eric, Denny, Carina and Sean, Shell Station Dave, G, Dixie and Heather, and Sharon and Dave for their help in shaping an extraordinary Memorial Day adventure. GOD BLESS YOU, CITIZENS OF AMERICA!