As 2008 unraveled and I imagined what lay ahead, I forsaw myself spending Memorial Day weekend in the Pacific Northwest. Unfortunately, as May approached, a vacation didn't seem to be in the proverbial cards. Until my employer's tech team announced plans to"to upgrade the network" and give our Internet-less staff Friday off. And Wells Fargo blessed my Visa with 2% APR till 2009. And
Priceline
hooked it up, hard style. So, two days before the holiday weekend, I booked a vacation package to Seattle.
Out of respect for this auspicious turn of events, I decided to leave the particulars of my journey up to chance and let the recommendations of strangers guide what I'd eat, drink, see and do over the weekend.
After checking into the Seatac Holiday Inn, I began my journey at
Sharp's Roaster & Alehouse
, a
Chotchkie's
-esque BBQ joint with a fine selection of draft beer and a gigantic, cocktail-emblazoned carnival wheel, spun by the bartenders every half hour to determine the drink special for the next 30 minutes. I sat at the bar between Debbie, a real estate agent from San Juan Island, and Emilio, a cruise ship staffer from Seattle, who recommended -- over hot, gooey cornbread, barbeque chicken and
Mac & Jack's African Amber
-- that I start Saturday off at the Pike Place Market and head out to Snoqualmie Falls on Sunday.
Several others had recommended Pike Place Market (Carrie's screenwriter friend,
Anthony Bourdain
) so I decided to make it my first stop in the city. But first, I had to fulfill a childhood dream: a visit to the location of Kurt Cobain's final moments.
Saturday morning was gorgeous, and the lady working the Avis counter just happened to hook me up with a Chrysler Sebring Convertible:
Chryst!
So I got dressed in the most obnoxiously alt rock outfit I could muster-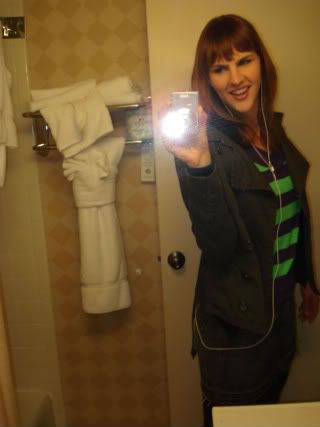 -and set out to Viretta Park, off of Lake Washington Boulevard, with the convertible top down and
Modest Mouse
on the stereo.
I found the house: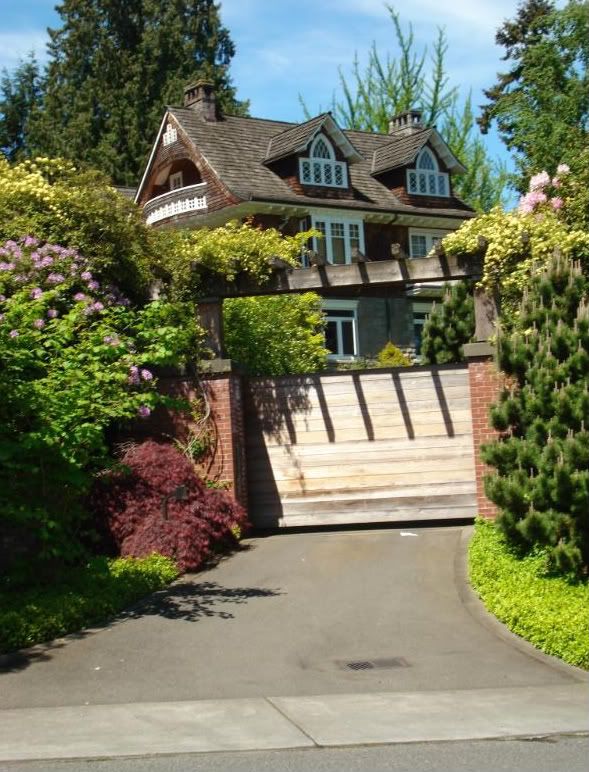 And the park: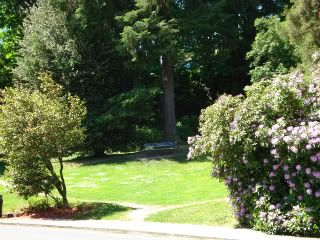 And one of several memorial benchs:
Of course, I had to add a note of my own:
And smoke a parliament next to the tree.
Egregious badassery.
Apparently, the house has been purchased and occupied by somebody else because every now and then I'd see some shirtless dude or bikini-topped babe bounce into view above the gate as if on a trampoline. Oh -- and for a good ten minutes or so, somebody was screaming, murderously. Nice.
After paying my respects, I drove west through downtown and meandered toward
Pike Place Market
. I emerged from the parking garage into an indoor boardwalk full of boutiques hawking antiques, jewelery, art, vitamins, and assorted novelties. The sight of
slime
lured me into one of the novelty shops, and I wandered in to find a twenty-something stoner and a bearded old hippie lounging idly behind the counter. Clearly these two knew where to drink.
I asked, and they suggested, without hesitation,
Nite Lite
on Second and Stewart ("Opens at 3:30. $1 PBR's, 4 finger beers"), as well as the
Whiskey Bar
("but I don't know if you have enough tattoos") and the
Pike Pub and Brewery
("if you like fancy beer").
I noted their recommendations, thanked them and left, and proceeded down the boardwalk to a Palm and Tarot Card Reader. Unfortunately, she had already left for the day. So I continued onward through the market, shuffling my way through the thick crowd past gorgeous displays of fresh seafood, flowers, jams, chocolates, soap, jewelry and art. I bought a $6 mermaid sculpture made of ash from the 1980 Mt. St. Helens eruption (it came with an informative card about the volcano; I couldn't resist).
The smell of fried seafood was overwhelming and, at that late afternoon hour, irresistable, so I stopped by
Emmett Watson's Oyster Bar
for a Hale Mongoose I.P.A. and a basket of fried oysters & chips. It was one of the best meals I've ever had. The oysters were so scrumptiously succulent the taste of them will follow me to the grave.
Next: the
Pike Pub,
where I had the pleasure of meeting Burbank residents Rachel and Eric over a sampler of the Pub's finest (recommended: Double and Tripel Ale. Not recommended: everything else). We chatted about Belgian beer, midwestern work ethics and the myth of the Bridezilla (Rachel's a wedding photographer:
check her out
), and Rachel recommended some spots worth visiting back in LA (
Masa
for bread pudding,
Lucky Baldwin's
for Belgian brews.)
After the pub, I called Jimmy whilst lounging on the pier, observing this totem pole: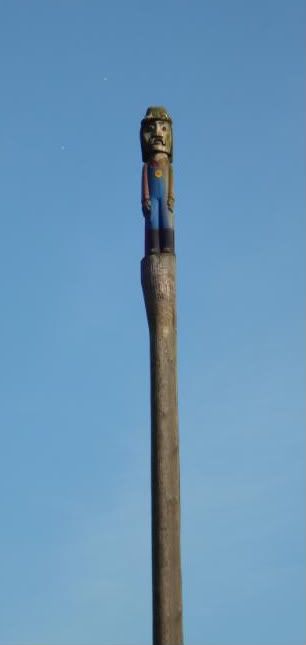 I then headed to the Bourdain-approved
Piroshky Piroshky
for a decidedly unnecessary but nevertheless delicious apple cinnamon pastry. Mmm.
After dessert, I went on a quest to find a marquee I'd spotted while looking for a place to park the Sebring: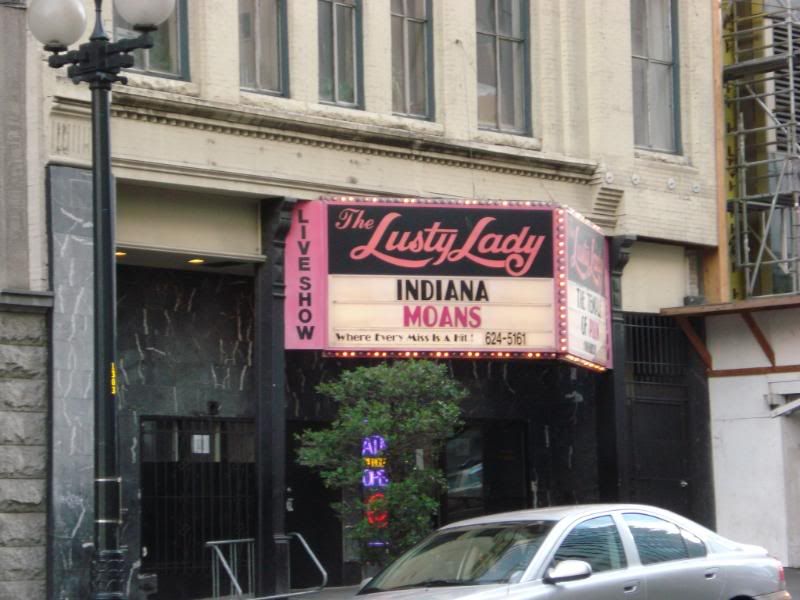 (No further comment necessary.)
Conveniently, this was near the
Nite Lite
, and so the evening began.
The Nite Lite's decor alone warrants a stellar recommendation: faux-rock walls adorned with lime green and birds-egg blue vinyl headboards, glittery green foil under the glass bar, fake icicles on the top shelf,
$1 PBR special before 7 p.m.
It was large, quirky and sleazy.
But there was nobody in there. So I moved on to the Whiskey Bar.
The Whiskey Bar was a nice little hang for the "discerning biker" (clean and tidy rockabilly chic). But hands down, the best thing about the Whiskey Bar was Denny, a 63 yr old Tulsa-born oil refinery salesman (who didn't look a day over 50), who schooled me on Canadian Club Reserve and coke, the perils of New Orleans, and life, love and new beginnings. During the early days of his sales career, Denny had traveled through and fallen in love with Seattle and resolved to move there if he ever needed a place to start over. Unfortunately, that time came in the 90's when his beloved wife, a singer, passed away. We shared several tall whiskey and cokes together, and then, after revealing that he had arrived by motorcycle, Denny abruptly left. It was probably for the best. At that point, I was ready to climb on back and ride off with him into the sunset. Instead, I moved north, to
Five Point Cafe
.
Outside the bar is a lovely view of the Space Needle: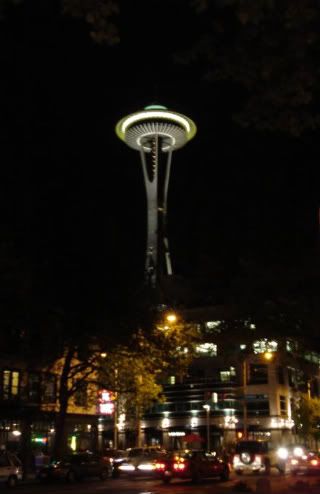 Inside the bar is cheap beer, a great jukebox, and colorful clientele. Around the time I realized the top shelf was adorned with softcore porno polariods, a robust tattooed woman in a pink tank top sat down to my right and ordered an
Adios Motherfucker
. She asked me if there were any tattoo parlors around and I apologized, "I don't know, I'm not from around here." She then pointed to a name tattooed on her back and explained, "I've got to get this name changed to Reyes."
"You might want to wipe that out altogether," I retorted.
"Huh. Hadn't thought about that."
She told me about Mr. Reyes, and what an asshole he was, and asked me about my notebook.
She said she wrote in her journal sometimes, after her weekly meetings. She had been addicted to crack, and was celebrating her second clean month.
We talked for quite awhile and she told me her name; regrettably, I cannot remember it, and I failed to record it, having tucked away my notebook out of respect for our conversation. I tried to convince her that she didn't need Mr. Reyes, she didn't need anyone, except for "what's in here" (Mel pounds her chest), and "you've got it. You've got that fire in you. I can see it."
I hope she believed me. After she left, a couple walked in and took her place at the bar: lovely, sweet Carina (a fellow
blogger
) and her friend Sean.
Carina graciously shared a Djarum with me, and I mentioned my plan to visit Snoqualmie Falls. She recommended Issaquah's Tiger Mountain instead. And so begins day two...