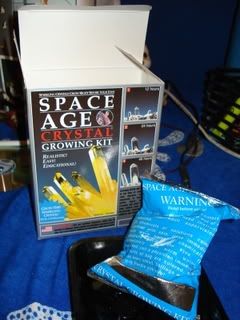 Nothing like a three-day weekend to guilt you into starting all those projects you should have finished three months ago. Like getting your oil changed. Or pulling up weeds in the backyard. Or growing your own homemade SPACE CRYSTALS!
According to the box, this Space Age Crystal Growing Kit will produce glittering, symmetrical crystals in only one week! Natural crystals take thousands of years to grow. So yeah, that's a pretty good deal. 
All you have to do is pour (almost all of) the crystal powder into a plastic container, add 1 cup and 3 tablespoons of boiling water, and stir. Then, you pour the resulting solution over a rock in a second plastic container, and cover this container for one hour. Then, after one hour, you take the lid off and sprinkle the rest of the crystal powder onto the rock and . . . it turns out this is more complicated than I thought it would be. 
As instructed, I placed the crystals in the most temperature-consistent area of the house: in the bedroom, next the CD player. I then exposed it to Jackie Wilson's "Higher and Higher" -- er, I mean, Nirvana's
With the Lights Out
(Disc 3), which, it turns out, is a pretty pointless collection to have if you convinced your Mom to buy you every Nirvana recording in existence in 1995, like I did. 
No psychoreactive properties have been recorded (yet).
But the crystals should form soon. I'll keep you posted.