Last week, I took the dog for a 10 pm walk and noticed an unusually bright, twinkling object just left of the constellation
Orion
. Was it a plane?, I wondered. A UFO? A top secret government WMD?
No!
It's Sirius, the Dog Star!
Sirius
is the brightest object in the sky and is not one star but two; a binary star system consisting of a white main sequence star (Sirius A) and a faint white dwarf star (Sirius B). The Sirius star system is one of the closest to our own solar system.
Sirius is part of the constellation
Canis Major
, Orion's canine hunting companion (thus its nickname, the
Dog Star
).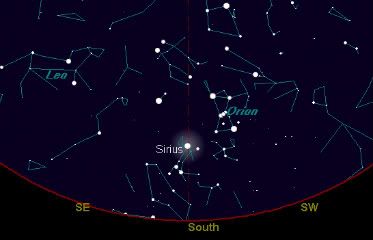 Orion and Canis Major are about to beat down Taurus.
The
heliacal rising
of Sirius marked important events for early civilizations:
the flooding of the Nile in Ancient Egypt (and the beginning of the Egyptian calendar year)
the hottest and dryest days of summer (aka 'Dog Days') in Ancient Greece
the beginning of winter in Polynesia, where it was an important tool for navigation (Sirius was known as Ka'ulua ("Queen of Heaven") in Hawaii, and was celebrated at the winter solstice.)