I've returned from Las Vegas.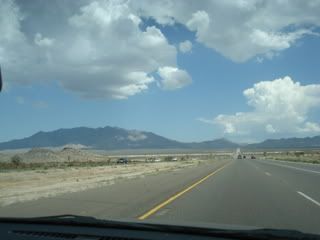 Barely.
About 10 miles past the abandoned waterpark, my alternator conked out and I had to be towed to Barstow.
Luckily, the mechanic there was open late and kind enough to fix me up. But we still didn't make it in time for Rock the Bells.
Bollocks.
Regardless, as this concluded my fifth trip to Vegas in the past year, I thought it appropriate to do a little Best-Of as reference for the less-seasoned.
Best way to spend the day

First, head over to the
Forum Shops
at Caesars Palace. There's something for everybody -- from $500 corsets at Agent Provocateur to Pete Rose at Field of Dreams. But my favorite will always be FAO Schwartz. I'm a sucker for giant stuffed animals.
Christy meets Octopus.
After you've had your fill, make your way over to the Mirage for
Siegfried and Roy's Secret Garden and Dolphin Habitat.
Sure, you have to pay $15 to get in, but once you're there, you can chill by the dolphin pool and drink $7 32 oz. Sin City Amber Lagers. It's the best deal in town. And they've got a baby dolphin, too!
Just watch out for Montecore.
Best novelty drink
The
BeatleJuice
at the Mirage's Beatles-inspired
Revolution Lounge
is a slightly sweet and very strong blueberry martini that is actually worth the $12.
Best novelty diner
Dine among Klingons at
Quark's Bar and Restaurant
at
Star Trek: The Experience
in the Las Vegas Hilton. Actors dress up as Star Trek characters and roam the restaurant while you eat; if you order a salad, they may even harass you for being a leaf-eating Earthling. I recommend a Hamborger and giant cauldron of smoking mixed drink (thanks, dry ice!)
That is not a statue.
Best bulk booze
Forget the sugared-up yard-long margaritas and get a boot full of mango daquiri at Coyote Ugly. It actually tastes good. You can refill the boot for cheap and for a small fee, you can add a double shot of 151.
Best hotel roomThe Venetian
. Every standard room has a sunken living room! It was hard to leave.
Worst hotel room
The Tropicana
. Stains, hard mattresses, ugh. Cuervo margaritas help.
Most surprisingly enjoyable stayHooters Hotel and Casino.
Clean rooms in Spring Break decor and poolside chicken wings. It started off as a joke (let's see Morrissey and stay at Hooters! Meat is murder! Bah!) but I gotta say, I'd be happy to stay here again.
Best thing you will ever see in your life
I saw a lot of great shows in the past year - Massive Attack, Bjork, Christina Aguilera, Modest Mouse, Girls Against Boys, Smashing Pumpkins, Sonic Youth, Slint, Morrissey, Amy Winehouse, Jarvis Cocker, El-P, The National, The Decemberists, Andrew Bird. But nothing even came close to
Elton John and the Red Piano
.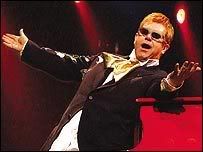 Not only do you get Sir Elton and giant inflatable legs, but you also get an amazing video accompaniment directed by David LaChappelle. A white trash ballet brawl? Set in a trailer park? Inspired by Tennessee Williams? Yes, please. More more more.
Most surprisingly awesome show
The now defunct
We Will Rock You,
the futuristic rock opera set to the music of Queen at the Paris Hotel and Casino, brought grown men to tears. The performances, sets and costumes were great, and the story instills the viewer with the importance of Rock in a way that
School of Rock
never could.
Most surprisingly offensive show
I suppose I was drunk, but during the course of
LOVE
I did a 180 from thinking it was the most amazing thing I'd ever seen to the most exploitative thing I'd ever seen. I left the theater murmuring curses at Paul McCartney under my breath.
The Beatles is pure, man!
Most surprising moment during a show
Being pulled up on stage by Penn to throw knives at Teller -- after a Witch Doctor and a shot of Patron (see "Best Meal as of February 2007" below).
Most disappointing show
Folies Bergere
at Tropicana. What with this dude MC? What's with the dude dancers? What's with the dude comedian? I paid for tits and feathers. Which comprised only about 7% of the show.
Speaking of that . . .
Most off-the-hook strip club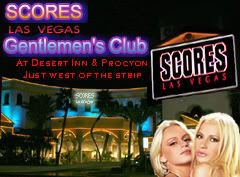 Scores.

Period.
Worst strip club
Anything
all nude, sans liquor
. Make sure you know where you are before you drop that cover.
Most Overrated NightclubTryst.
Do you like three minutes of Michael Jackson inexplicably mixed with three minutes of Nirvana, transitioned into 45 seconds of Journey? Then this lame-ass DJ is for you.
Best bar to score a Jack and Coke and some old science textbooks
To the right of the Tropicana's
Tuscany Italian Cafe,
there's a tiny little bar with an even tinier little room with a leather couch, a couple of chairs, a flat screen TV, and two built-in-the-wall bookcases full of your parents' old science textbooks. If you ask the bartender, he'll let you take one home. But hurry fast -- it's getting the bomb in November.
Blinding myself with science.
Best meal as of February 2007
Before it became the Voodoo Steak House and completely changed the menu, the Rio's Voodoo Lounge had not only the tastiest entree in town ("Chicken Some Street in New Orleans") but also the best drink -- a smoking cauldron of "Witch Doctor," ten shots of rum topped with a little plastic ghost.
Best meal as of August 2007
Japonais at the Mirage. Sensual ambiance, solid food.
Best dessert
Banana Cream Pie at Emeril's at the MGM Grand. It's as big as a cat.
Best display item
Christina Aguilera's chaps
from the Dirrty Video at the Hard Rock Hotel and Casino.
Maybe it's just me.
Most annoying surcharge
$20 for picking up the "Pleasure Box" off the Caesars Palace amenity tray and laughing at it.
Most triumphant moment
Winning $80 on the Big Six at Treasure Island.