I successfully cooked two dishes this Thanksgiving: corn casserole and butterscotch yams. The yams were a departure from my aunt's renowned sweet potatoes, and my cousin raised the question, "what's the difference?"
The answer: Everything - or nothing at all.
Though sweet potatoes are often
called
yams in the US, the starchy root vegetables that most consumers buy are actually sweet potatoes, and not yams, which are entirely different plants.
Wikipedia
clears up the confusion:
"Yams are a monocot (a plant having one embryonic seed leaf) and from the Dioscoreaceae or Yam family. Sweet Potatoes, often called 'yams', are a dicot (a plant having two embryonic seed leaves) and are from the Convolvulacea or morning glory family."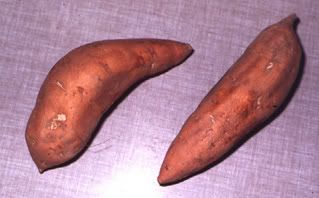 Yams.
Sweet potatoes.
How do you tell the difference? Yams are darker-skinned and sweeter than sweet potatoes.
Fun facts:
More info.