There's always a good reason to go to Vegas; this time, it was
Billy Joel
at the MGM Grand. Luckily for us, there was also a Comedy Festival at Caesars Palace, and we kicked the weekend off by scoring standby tickets to see
Jerry Seinfeld
at the Colosseum.
Seinfeld was relentless. My eyes were watering from beginning to end. His stand up did not deviate far from "what's the deal with yadda yadda yadda;" yet every joke seemed fresh and mind-blowingly hilarious. Amazing, considering he's been running with the same schtick for 20+ years. He had some really great bits about going out, and doing nothing, and . . . oh, you get the idea. The content was predictable; the execution was extraordinary.
The opening comic, Mario Joyner, was really great, too. He's one of those "that's so TRUE!" comics, but his delivery was impeccable. My favorite was his bit about Home Depot and how any idiot can buy a nail gun (he said they might as well rename it "You're on Your Own.")Yeah, okay, you probably had to be there, but I found it especially hilarious given the impending move and my own visits to the HD. When he mentioned the DIY check out and the pigeons in the store, I realized, "hey, this guy goes to the same Home Depot I do!" No, really. The guy lives in Santa Monica and I suspect he's going to the HD on Wilshire and Union. The same HD I will be visiting today. To buy more painters' tape and brushes. *sigh*
Billy Joel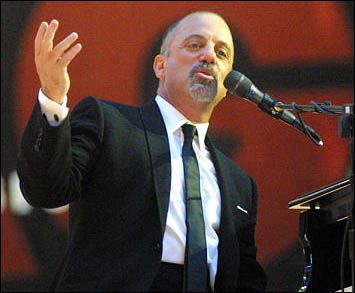 "Don't Take Any Shit From Anybody!"
Wow. What can I say. I'm pretty sure we were the youngest people there who had voluntarily bought tickets (there were a couple of preteens with their parents, and I couldn't help but think "do you know what you're about to see, you ungrateful little brats?") The show was amazing. Not only is Joel an immensely talented musician and, like, totally awesome, but he's also an exceptional showman. He played bits of Sinatra and Elvis in between his own songs. He cracked jokes about car insurance and Elton John. And he brought one of his guitar techs -- his roadie of 25 years -- onstage for his so-called "American Idol moment." Joel explained that his roadie was a really good guy and just wanted to do a religious song for us all, and invited us to be Simon Cowell or Paula Abdul (the latter of which elicited an enthusiastic "yeah!" from me). Then, "Chainsaw," a hefty roadie dressed in stage crew black, bounded onto the stage and gave us his best Bon Scott impression while the band (and Billy) tore through "Highway to Hell."
Yeah, it was awesome.
After closing the set with a rollicking "You May Be Right," Joel came back for an encore of "Scenes From an Italian Restaurant," "Only the Good Die Young," and "Piano Man." Then, he bid adieu with a "Good Luck!" and a hearty "Don't take any shit from anybody!"
These two events comprised the bulk of the trip, though we did make it over to Fremont Street on Saturday afternoon, with brief stops at the Golden Nugget (to check out their aquarium-penetrating water slide) and the Girls of Glitter Gulch (where the ladies did their best Britney to "Gimme More").
If you'd like to know more about my half-dozen other pilgrimages to the Holy Land, check out my
Vegas Retrospective
.