Wisdom from Kanye West's
Graduation: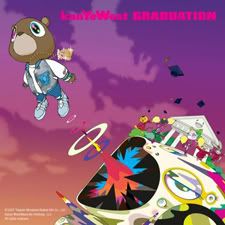 "Look at the valedictorian, scared of the future/Scared to face the world, complacent career student/Some people graduate, but we still stupid."
--
Good Morning
"You can still be who you wish you is/It ain't happen yet/And that's what where the tuition is"
-
I Wonder
"I was splurging' on trizz/But when I get my card back activated/I'm back to Vegas/ cause I always had a passion for flashing' before I had it"
--
The Good Life
"And you can live through anything/if Magic made it"
--
Can't Tell Me Nothing
"Now everybody got the game figured out all wrong/I guess you never know what you got till it's gone/I guess that's why I'm here and I cant come back home/And if you don't know by now/I'm talking bout Chi town."
--
Homecoming
"So if the devil wear Prada/Adam Eve wear Nada/I'm in between, but way more fresher."
--
Can't Tell me Nothing
"Lauryn Hill say her heart was in Zion/I wish her heart still was in rhymin."
--
Champion
"People talk so much shit about me at barbershops/they forget to get they hair cut."
--
Everything I AmUPDATE: The Tao of Kanye
coming to a bookstore near you!