Both of my roommates turned 25 last weekend, and I was faced with the challenge of making two VIPs in my life feel very special, instead of that-much-closer-to-30.
It was a daunting task, but a task accomplished by delighting them with the
most exclusive clubs in Los Angeles!
Because what eases the transition into your late 20s better than partying in places inaccessible to the general public?
So, without further ado . . .
Les Deux
After watching a herd of paparazzi sprint toward its general direction, I expected the worst from
Les Deux
, but it turned out to be quite enjoyable.
It wasn't a stuffy, minimalistic dance club like I'd expected but a small, Victorian house with one large first-floor lounge, a roomy second-floor VIP balcony, and a large cobblestone courtyard lined with chocolate-leather booths. The DJ spun a nice mix of Top 40 and 80s dance music underneath a projection of Baz Luhrmann's
Romeo and Juliet
.
The atmosphere was relaxed and chill, and the bartender gave us two-for-one Patron shots. After all, how can you resist these faces: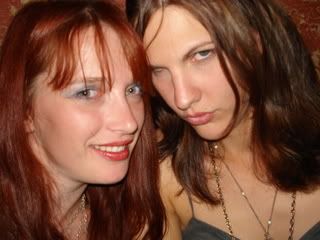 Les Douche.
We talked our way up to the VIP room, which was occupied by a group of disability insurance salesmen from Boston and a couple of Marines. One of the Marines was the PR Director for the Marine Corp - the person responsible for convincing journalists to come to Iraq and write about all of the good and reprehensible things going on there. She was revealing all sorts of fascinating things about Iraq that I was trying very hard to retain but promptly forgot a few moments (and sips of vodka soda) later. I think she described Iraq as "four times worse than Tijuana" but that, of course, sounded absurd in the morning. At any rate, after admitting, "we never should have gone in there in the first place, but since we did . . ." she shifted to more Les Deux-appropriate topics such as her childhood aspirations (acting) and the brand of my dress (Free People). She was a fascinating person, and I wish I was sober enough to remember our conversation (yay, America). Her male companion gave me a flashing Pentagon keychain.
After we left, we bought two of the best bacon-wrapped hot dogs EVAH! I think they were actually bacon-wrapped spicy sausages, not hot dogs, which brought the experience to a whole new level. The sausages were wrapped in toasty, grease-soaked buns and topped with veritable mounds of onions, peppers, mustard and ketchup. As Sarah and I devoured them under a nearby awning, men kept approaching us and asking us where we were from. No one believed us when we said "LA." (Dunno why, I mean, wtf, right?)
The Magic Castle
On Friday night, Sarah and I got all dolled up and went to
The Magic Castle
, the private members-only magician's club on Franklin and Hollywood.
It was just as awesome as you might imagine. I won't spoil the mystery for you, but let me just say that the place has five bars full of aging magicians eager to perform tricks and buy drinks for pretty ladies.
We weren't allowed to take pictures, so think of a Hogwarts full of strange uncles.
Club 33
I thought Disneyland's
Club 33
was a nightclub. It's not. It's a very expensive French restaurant with antique furniture, crimson walls and gold-embroidered drapes. It's like eating inside of a Louis Vutton bag. Seth and I got the five course Prix Fixe menu - quite tasty. The toilets are rather peculiar: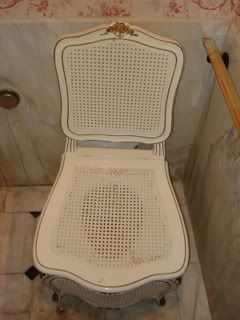 "I've got the guts to die. What I want to know is, have you got the guts to live?"
Once inside, you travel to the dining area via elevator: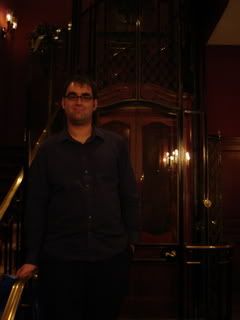 Pretty cool, huh?
Pirates of the Caribbean
is even better after five glasses of wine.
But do
not
go on the
Finding Nemo
submarines until you've completely sobered up.
(Or ever, if you're afraid of being submerged in water, like I am.)
**
Now, you might be wondering how you can befriend someone like me; someone who has the know-how to get you into these wonderfully exclusive Southern Californian establishments.
(Lots and lots of cash.)
No, seriously, the truth is that I owe it all to Sarah, Becky and Barb G. Thanks, ladies.